Today I'm sharing our living room moodboard. Like I mentioned in my last post, this won't be a big sweeping change but a gradual change with updates here and there. For now, we are selling the sofas, painting and getting a new sofa. But I'll run through our plan in here and talk about some of the pieces we already have.
Here's a picture of what it looks like now-ish. I took this last year, but it's pretty close. We moved the blue sofa in front of the window because we acquired a bigger sofa that I actually hate and really can't wait to get rid of. The fireplace is behind those chairs on the right and those will be going in the shop.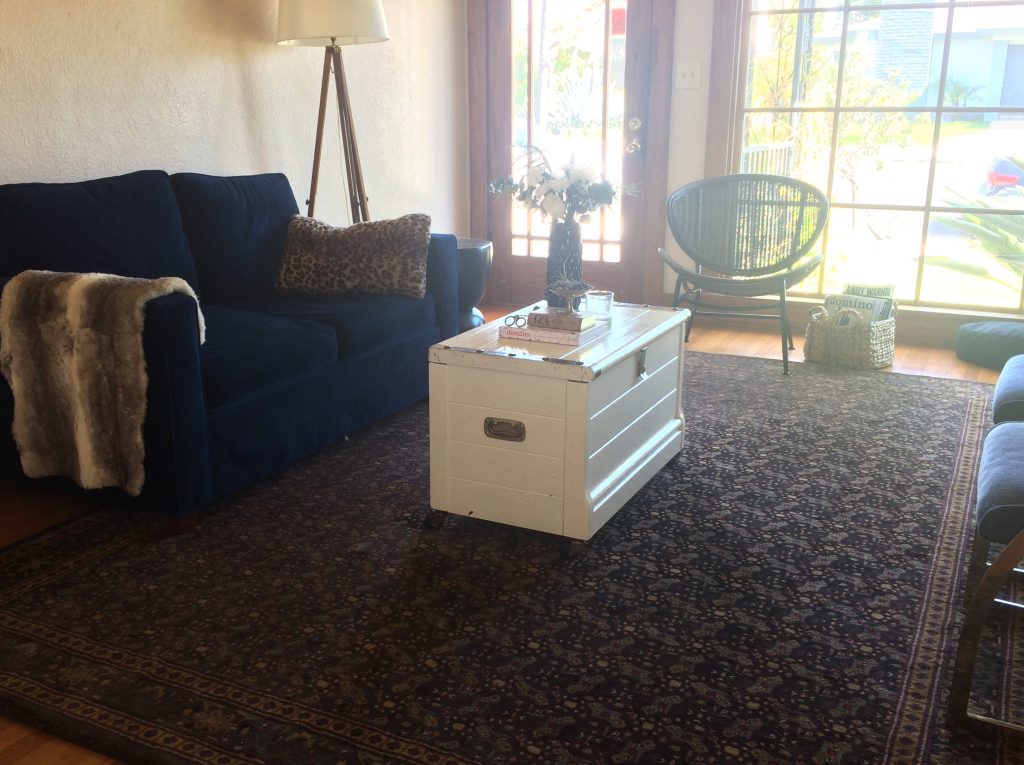 As you can see the room is quite narrow and there isn't a lot of open wall space. We're selling the blue West Elm sleeper sofa and donating the chest. I don't know what I'll do with that rug. I love it but it won't fit anywhere else in the house so I will probably need to sell it. Here's the goal for this room which a quite a departure because it currently feels very dark.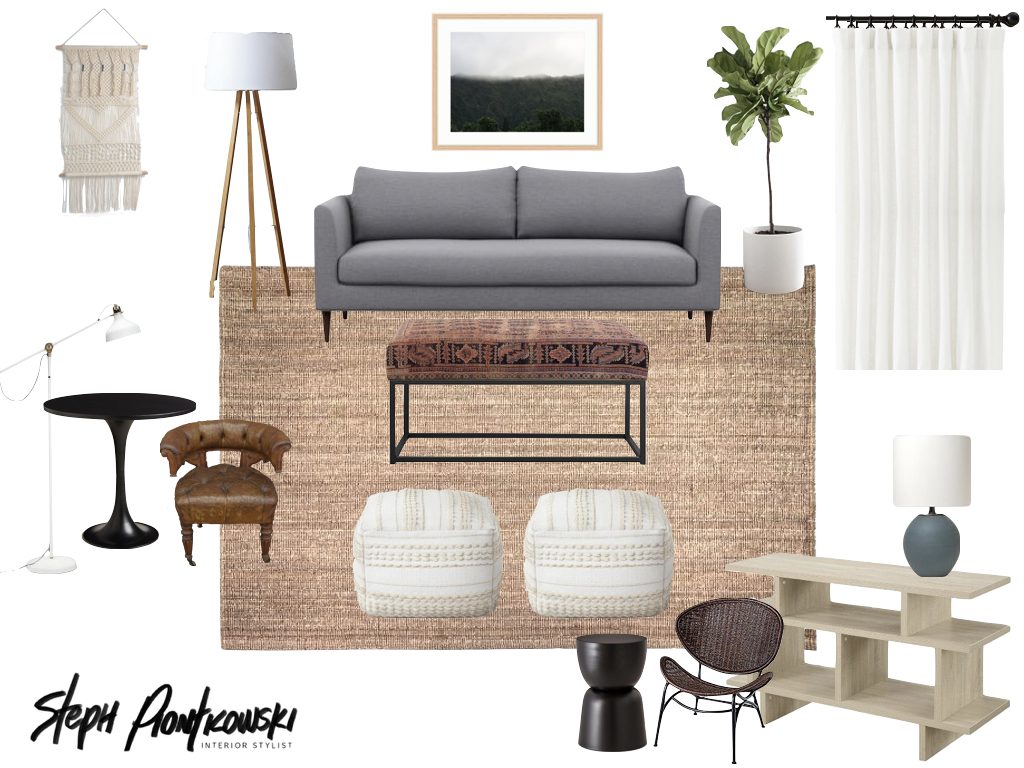 This sofa is from Interior Define and it is basically perfect. Interior Define allows you to customize in so many different ways so you can get the piece of furniture that is perfect. I do of course need to get the sign off from my husband, Spence, so we'll take a weekend trip up to LA this summer so he can try it first. His only non-negotiable in here is no ordering a sofa without trying it first, so I can work with that. Luckily it's only a couple hours drive so we'll make a family weekend of it and go to the LACMA and the La Brea Tar Pits.
There are quite a few things that we already have which will make this go a lot quicker. A lot of what we have are affordable, vintage or DIY because like I mentioned we have a lot of things to do in the house, which is also a rental, so we don't want to dump a ton of money into it. BUT that doesn't mean it can't be beautiful.
Here's a list of the things we already have:
Vintage teak tripod lamp. This baby is staying no matter what. This was an incredible yard sale find from a couple years ago and it is so amazing. I just need to oil the wood and it will be good to go.
Vintage tufted leather club chair. This isn't the exact one we have but it's fairly close. Ours has no opening in the the seat back but is the same color and is on casters. The richness in this leather is great and it's really comfy. It's one of my favorite pieces of furniture in the whole house.
Macrame wall hanging. This is new from Target and I can't believe how nice it looks for only $50. I bought it on a whim but it works perfectly with my vision in here.
Black tulip table from World Market. I got this a while back and it's the perfect size for a side table with a pretty lamp and accessories.
Drum table from Target (no longer available). I got this a few years ago and it's super versatile and easy to move around depending on our needs. Love it.
Wicker chair from Pier 1 (no longer available). This is the single remaining piece of furniture from my college days and I'm so shocked at how good it's held up. It's surprisingly comfortable and I'll be happy to get it out of my son's room, because I'm al little worried he's going to put a hole through it one of these days.
Natural poufs from Target. I recently got these and they're pretty nice. I really want to the Natoli Poufs from All Modern, but for the insane price difference I think the Opalhouse Poufs will win out.
Jute rug. We already have a large jute rug so it's just a matter of moving it from the master to the living room.
Ikea floor lamp. This is a great lamp at an affordable price and fits anywhere. We've had this for years and I see no reason to get rid of it! It's a classic.
Fiddle leaf fig tree. Guys (!!) I've had this for over six months and I've not only NOT killed it, but it has grown! As a lifetime black thumb I am shocked and feel hope for my future as a plant lover. There is hope for us all!! Anyways, it's currently in a large basket that will be listed in the shop as soon as I find a perfect replacement.
So now that I write it all out, there's really not much that we still need to buy. It's just a matter of pulling it all together. I've had a very hard time finding a media console that I actually like. We have a home theater PC and stereo that both, at 17″ wide, are a little large, so that's has been a challenge. I did order the one pictured, but the dimensions on the website were off by 3/8″ which no joke, made it just too small. I was so sad. The style and size were otherwise perfect. So back to the drawing board on that one.
Here are some of the things we still need:
The coffee table ottoman is actually a DIY I'm going to do based on the Chautauqua Ottoman by Shoppe by Amber Interiors. Sadly that one is far out of our budget but I've got a plan on how to recreate it on a much smaller budget. That will be a post of it's own so stay tuned.
Art. My current plan is to have a photo I took on last years Hawaii vacation printed and framed in something around a 30″x40″ size. That may change though, since I've been loving some of the prints out of Jenny's Print Shop, like Big Sur. 
A media console.
Table lamp. I'm on the hunt for a gorgeous ceramic table lamp in a solid color matte finish. I'm open to color but I haven't found THE ONE yet.
Sofa, which I already gushed about.
Curtains. We currently only have blinds on all the windows, but I want to put up curtains on our big picture window in the front. Probably white or a light grey linen.
Paint! I have narrowed down my paint choices to Bleached Slate or Cool Gray, both from Valspar. Ideally we'd use a higher quality paint but I can't bring myself to spend $100 a gallon on paint for a rental. I tried and I can't do it. Our handyman painted all the trim in the house except the living and dining room, but luckily I have a gallon of the leftover so I'm going to paint it white to match the trim throughout the rest of the house.
What do you think about the living room design?  There are obviously tons of accessories and other art that I'll get to pull it all together but this covers the big pieces. If your'e looking to update your space, I specialize in e-design so I can design a room for you no matter where you live. Click over to my services page to see the packages I currently offer.