Summer holidays are a perfect time to outfit your outdoor dining area or other parts of your backyard or patio. We are working on our backyard which is huge so we're only focusing on the dining area currently. Here are some things I've ordered, or are on my wish list.
At our house my husband is the client so I pulled together a vision board for him. This shows him what I want it to look like so he can weigh in on likes and dislikes. This is what I showed him, it's neutral and classic without leaning too traditional.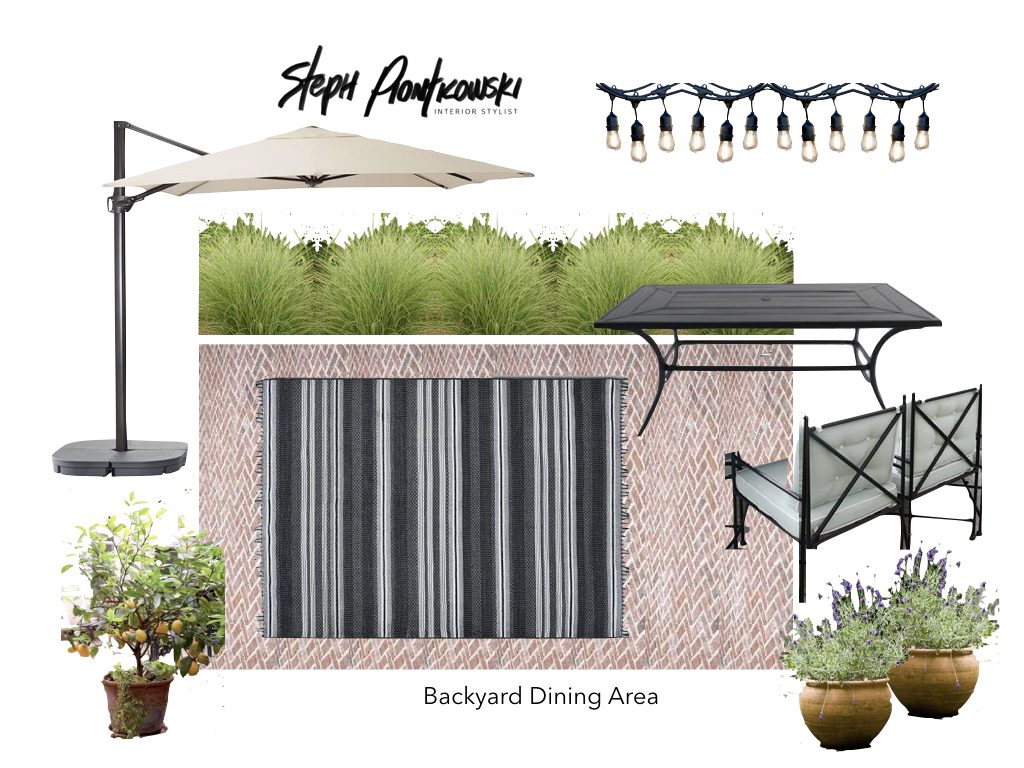 We have a brick patio that is about 10' x 20'. We're using 2/3 of it for the dining area and the rest for the grill and garden potting area. It is old and uneven, which is charming but also annoying when you're trying to scoot chairs in and out. To solve that problem and help define the dining area I'm using an outdoor patio rug from Target. It's a flat weave and will hold up to the elements. Sadly, I missed out on the 9'x12' which is sold out, but I'm going to see if the 7'x10' works. We already have the table and the two chairs, so I need to pick up four more smaller chairs, which I have yet to choose.
We are renters and there is no irrigation or grass in the backyard, so I need to be strategic with my use of plants. I'm no green thumb so I need strong plants that are forgiving and drought tolerant. That way when I forget to water them they won't die right away. We'll be using water-wise native plants to help with that. We have 3' between the patio and the fence so I'll plant some tall grasses. I'm hoping to pick some up tomorrow at my local home improvement store. Otherwise I'll be gradually adding small fruit trees, herbs and flowers in various sized terra-cotta and black planters. Again, this is not happening right away because of budget for one, and personally I need to make sure I can keep one thing alive at a time. If it's not a tiny human I really struggle with this. 
I originally planned to pick up the tilting canopy umbrella from Ikea, but instead I ordered a 9' Sunbrella Tilting Umbrella in Charcoal from Crate + Barrel (right) that I love and wasn't much more expensive on sale than the Ikea one. Yay for those summer sales!
At some point I will string cafe lights, but for now I have stockpiled boxes of white Christmas lights. I am planning on making some DIY light poles in large planters and planting flowers around them for more color and life. That will be a future blog post of its own.
I'm a big fan of taking on projects in small chunks and making the most of what you have until you can save for the really-wants, or find a good deal on something secondhand. There is no shame in that! The table was something we found in the alley behind our house (!!) and just needed to be repainted, the two chairs came from a neighbor in our Facebook Buy Nothing Group and I bought new cushions for them, our umbrella stand came from an estate sale and needed a paint job and the lights were post-Christmas 70% off clearance deals from Target. I can't stress enough that updating your home doesn't have to mean spending a fortune and breaking the bank. When I do buy things new I try my best to get them on sale or with coupon codes. Which brings me to our awesome new outdoor dishes.
I ordered some melamine dishes from Crate and Barrel and they are perfect. I chose the Lunea line because they are near indestructible, light for carrying in and out of the house and dishwasher safe, which is a must-have. We have a portable half-sized dishwasher (small-old house problems) and most melamine dishes I've liked have been only dishwasher safe on the top rack, and that won't work for us. Our top rack will only fit cups and bowls so I was really happy to find these. This is what I ordered: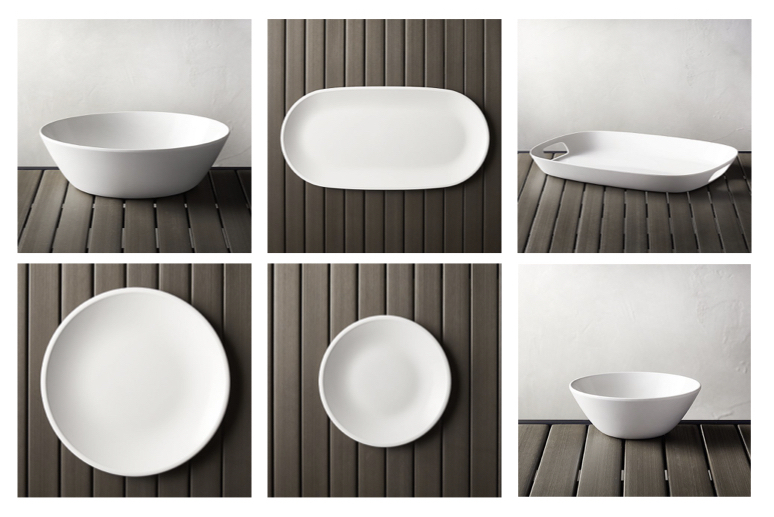 Here's a quick rundown of some other sales going on right now so you can pick up some new goodies for your patio or backyard. 
All Modern: 15% off with code SPARKS
Anthropologie: extra 25% off sale items
Crate + Barrel: up tp 50% off outdoor furniture, dinner and drinkware and 15% off full-priced merchandise using promo code SAVE15
H&M: up to 70% off, plus 15% off if you order through the app
Overstock: up to 70% and free shipping
Target: up to 30% off patio and home with an additional 15% off using code AMERICA
Urban Outfitters: extra 30% off sale items (this ends Tuesday!)
Wayfair: up to 70% off
West Elm: 20% off entire purchase using code JULY4
World Market: online 10% off and free shipping over $65 using code SUMMER10, Explorer Members get 15% off online or in store and free shipping over $65 using code EXCLUSIVE
If you're looking for some other ideas to use in your home here's a link to more of my moodboard posts.