Sometimes we have to live with things that are unsightly but necessary. Not everyone cares about these things but I definitely do. I really hate ugly packaging and I have a confession….I decant. Everything. Well, a lot of things at least.
When you decant things you have a chance to take something ugly and make it a little more attractive. Here's a few examples of how I do that.
This is one that I always get comments on. Mouthwash. Name me one attractive mouthwash bottle. The one we use definitely isn't. Putting it into the gorgeous vintage decanter in the photo above is a game changer and I pair it with these Hatch Shot Glasses from Crate & Barrel. It's better than little paper cups because I can wash these and reuse them. One point for style and another for saving the trees! Also seen in this picture is not technically decanting, but has a similar effect. I roll up our wash cloths and put them in a vintage dough bowl and leave them on display.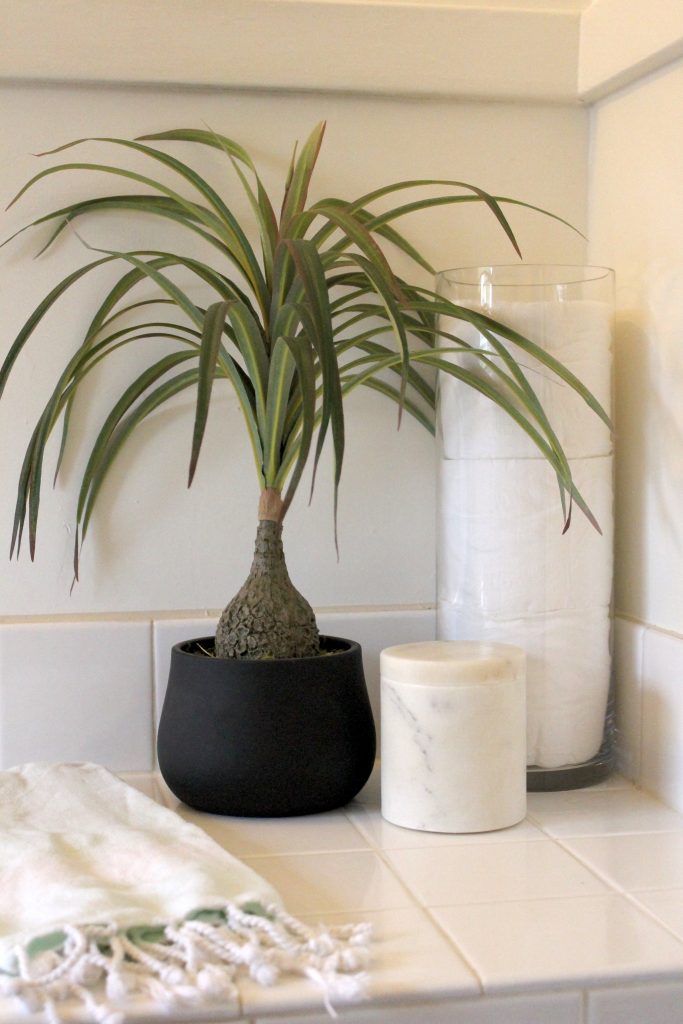 There is nothing glamorous about toilet paper but it is possible to make it look good and it's super easy for guests to see where the extra rolls are. This is just a large cylindrical vase from HomeGoods, but you can get them at just about any home decor store.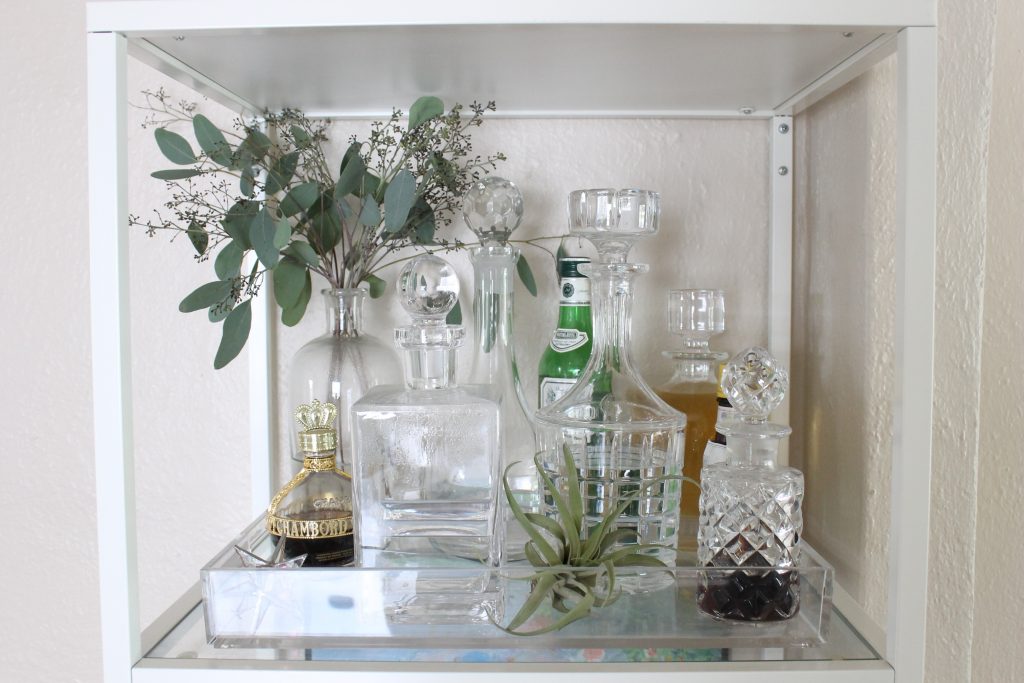 This one is almost a throwaway since it's so obvious, but a good candidate for decanting is of course, liquor. I have a collection of decanters that are great for creating interest and cohesion in your bar, whether it's on a cart or a shelf. Most of these are vintage but the square one in front is from Pottery Barn.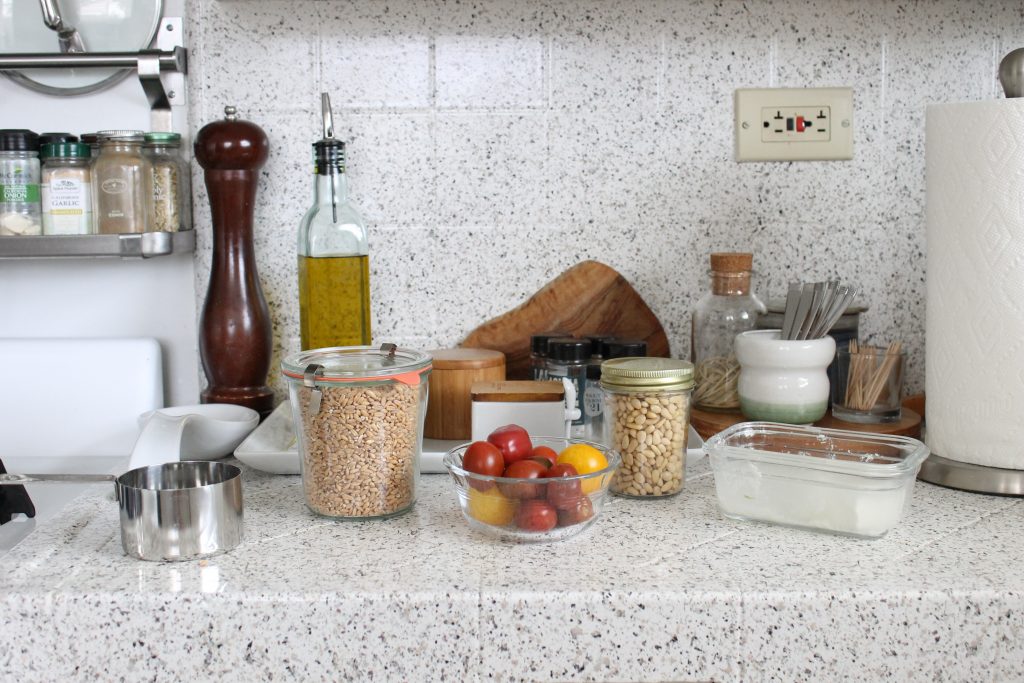 The kitchen is maybe my favorite place to decant. Pasta, grains, nuts, dried fruit, spices, salt, oils. The sky is the limit. You can even see in this photo I have rubber bands decanted because we use them frequently for things like chips, cereal, partially used bags of frozen veg and tons of other things, as well as toothpicks for testing things like cakes and muffins. Depending on your personal style you can get a set of matching jars and containers or you can do what I do and collect great jars here and there (I have an affinity for Weck and Le Parfait jars) and reuse food jars after they are empty. I have a pretty wicked collection of Bonne Mamman jars. Those things are the best!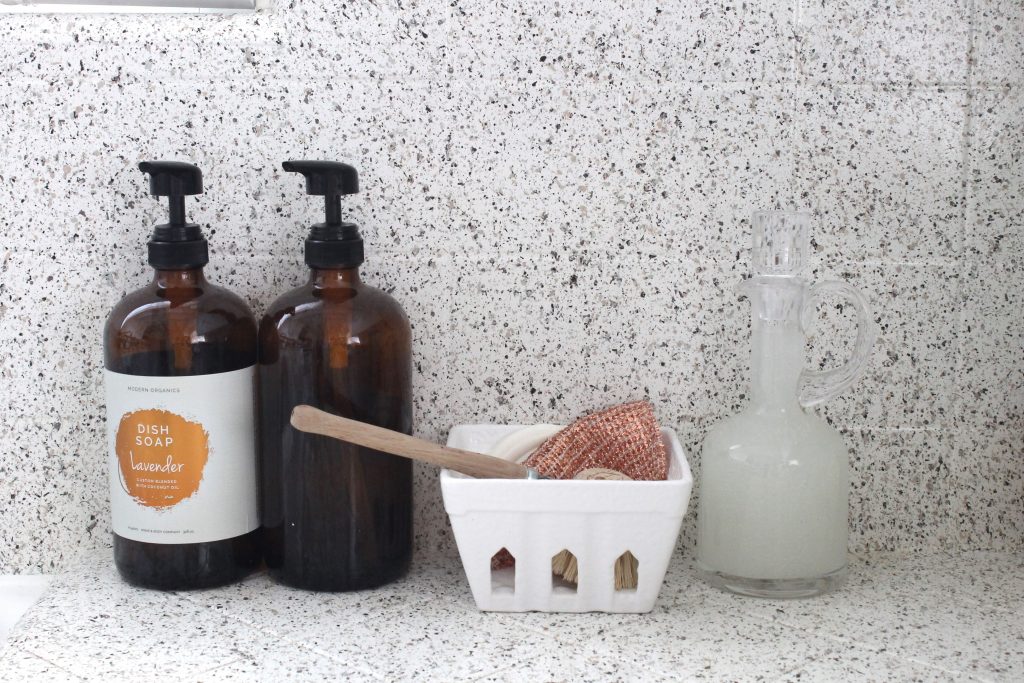 This is a great one that's easily overlooked. Decant your dishwashing liquid! Those big plastic bottles are not exactly pretty and almost certainly don't match your style, but if you're anything like me you need to use it frequently. The great thing is that the consistency is totally pourable. If you use powder you can pour it into a clear flour canister with a pretty measuring spoon you can leave inside. The bottle shown here is a glass olive oil bottle from Sur la Table.
I hope you can use some of these tips to make your everyday a little prettier. If you give them a try I'd love to see it. Share it on Instagram by tagging @stephpiontkowskiinteriors and using #spinteriorstuesdaytip, or you can tag me on Facebook or Twitter.
What do you decant in your home? Do you think you'll give any of these a try? Let me know in the comments.